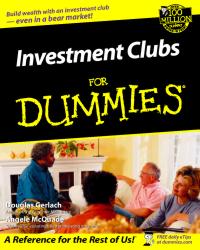 About the Authors
Douglas Gerlach
A true Internet pioneer, Gerlach founded one of the earliest financial Web sites, Investorama.com, in 1995. Since then, he has helped hundreds of thousands of people get started on the road to financial freedom, through books, Web sites, magazine articles, frequent media appearances and speaking engagements.
Gerlach's interest in investing and investment clubs began in 1993, when he helped found the Blue Chip Posse investment club in New York City. He also joined the world's first online club, the Pioneer OnLine Investment Club (POLIC), in 1994. Between the two clubs, he has served terms as president and treasurer.
Gerlach is closely involved with the National Association of Investors Corporation (NAIC), the leading non-profit organization committed to investment clubs and investment education. He is the co-creator and consulting editor of the NAIC Web site, and has served on the NAIC Computer Group's Advisory Board since 1995. In 1996, Gerlach received the Distinguished Service Award (known as the Dutch Shoes Award) from NAIC's Investment Education Institute in recognition of his pioneering efforts using the online medium to teach people how to invest in the stock market. This prestigious award, typically given for lifetime achievement, is an indicator of the impact that the Internet has had on NAIC's outreach to investors and of Gerlach's role in those efforts.
Gerlach is the author of several books, including The Investor's Web Guide, The Complete Idiot's Guide to Online Investing, and The Armchair Millionaire. In addition, he has written for Individual Investor, Better Investing, Computer Life and PC World magazines, and is Mutual Funds magazine's Consulting Editor for online investing. His advice column for investment club members, "The Investment Club Therapist," appears regularly on ICLUBcentral.com. Widely quoted in the mainstream press, Gerlach has been featured in many television and radio programs, as well. He is also a regular speaker on the topic of investing and personal finance, and has spoken at conferences and Investors Fairs from Honolulu to Berlin.
For more information about Gerlach, and a complete schedule of upcoming appearances, visit www.douglasgerlach.com.
Angele McQuade
Angele McQuade joined the Terrace Investment Group investment club in 1996 not long after she first started investing, and soon discovered the enormous educational opportunities that investment clubs can provide. Since that time, she has been committed to finding innovative ways to teach investing and personal finance to others who might find Wall Street an intimidating foe.
As one of the original organizers of the online Investor's School of the National Association of Investors Corporation (NAIC), McQuade has helped to develop Web-based, interactive investing seminars and chats designed for both new and experienced investors. Her efforts have contributed to a popular on-going series of weekly educational offerings with a broad and continuously growing international audience.
In addition, she writes the monthly Book Value column as well as feature articles for NAIC's Better Investing magazine, read by the organization's members and sold on newsstands. McQuade also wrote extensively for the Investorama.com personal finance Web site.
Following a recent out-of-state move, McQuade withdrew from her investment club. She's now in the planning stages of starting a club in her new hometown of Ithaca, New York. She hopes to create a club that will include a unique twist, serving as a mentor to a youth club at her local high school. She envisions a club where the members will meet with the teen investors on a regular basis, and where the teens can visit and even participate in her club's meetings whenever they wish. She also hopes that when her own two children reach high school age, they'll be as enthusiastic about the benefits of club investing as she is and want to join the youth club themselves.